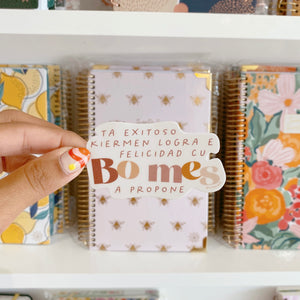 Briyando Mane' E Solo! 
This collection is dear to our heart since experiencing the Aruban sunset has been a great part of our well-being journey and we wanted to share this experience with you. For this collection we are focusing on gratitude, self-care, manifestation, healthy habits and YOU! 
"Ta exitoso kiermen logra e felicidad cu bo mes a propone". Have these encouraging words with you at all times by adding the sticker on your water bottle, car, laptop or planner! It's made out of thick, durable vinyl protects that protects stickers from scratching, rain & sunlight. Waterproof!
This collection is beautifully illustrated by Melolelo featuring quotes in Papiamento by Letras by E.