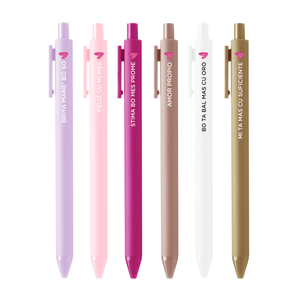 Your favorite pen now with Papiamento phrases on them!
Our Amor Propio phrases that first came in pencils with our first stationery collection back in 2021, are now available as jotter pens!
Six pens with beautiful inspirational quotes on them, each with different colored ink.
1. Bo ta bal mas cu oro, writes in light purple
2. Mi ta mas cu suficiente, writes in pink 
3. Feliz cu mi mes, writes in pink
4. Amor propio, writes in black
5. Stima bo mes prome, writes in black
6. Briya mane' bo so, writes in black
These pack of pens comes in a cardboard recyclable packaging, and not in plastic wrapping to minimize waste. 
To purchase pens individually, check them out here.